— Sports
1st-timer Arizona joins mainstays in women's NCAA Final Four
Arizona has been having fun and playing good basketball, all the way to its first women's NCAA Final Four. The Wildcats will now play the team that has been there more than any other.
The Wildcats (20-5), in their fifth season with Adia Barnes coaching her alma mater, play their first national semifinal game Friday night against UConn (28-1). The 11-time national champions are making their 13th consecutive Final Four appearance and 21st overall for Geno Auriemma.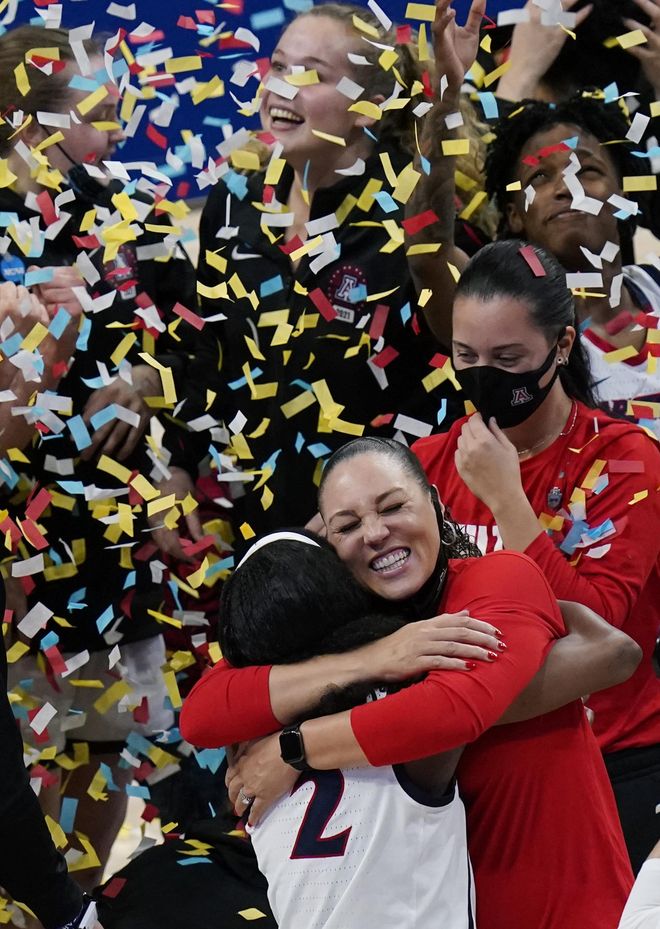 "They're a confident team because it's chartered territory. It's unchartered for us. This is something they're used to," Barnes said. "I think for us, there's no pressure. No one expects Arizona to win a championship. No one expected Arizona to be in the Elite 8, Sweet 16, Final Four. We don't have anything to lose. We can play loose, free because we don't have the pressure."
Barnes will also be part of another first, along with South Carolina coach Dawn Staley. It will be the first Final Four with two teams coached by Black women.
"So many black coaches out there don't get the opportunity. When (athletic directors) don't see it, they don't see it," Staley said. "And they're going to see it on biggest stage Friday night."
South Carolina (26-4), the 2017 national champion, plays No. 1 overall seed Stanford (29-2) in the first game Friday night in the Alamodome, where UConn beat the Cardinal for the 2010 title, the only other team the Final Four was played in San Antonio.
The Cardinal's first Final Four since 2017 is their 14th overall, trailing only to UConn and Tennessee's 18.
Barnes was a player on Arizona's only other Sweet 16 team, her senior season in 1998 when she was the Pac-12 player of the year. Now she becomes the sixth coach to take her alma mater to the Final Four. The Wildcats hadn't even been in the women's NCAA Tournament since 2005, though they would have made it last year with a 24-7 record before the tourney was canceled because of the pandemic.
While UConn has been a regular in the Final Four, these Huskies don't have too much experience – and they haven't won a national title since four in a row from 2013-16. They advanced this time with a 69-67 win in the River Walk Region final over Baylor, which won the national title in the last NCAA tourney two years ago.