— Sports
Antetokounmpo, Bucks outlast Durant, Nets 117-114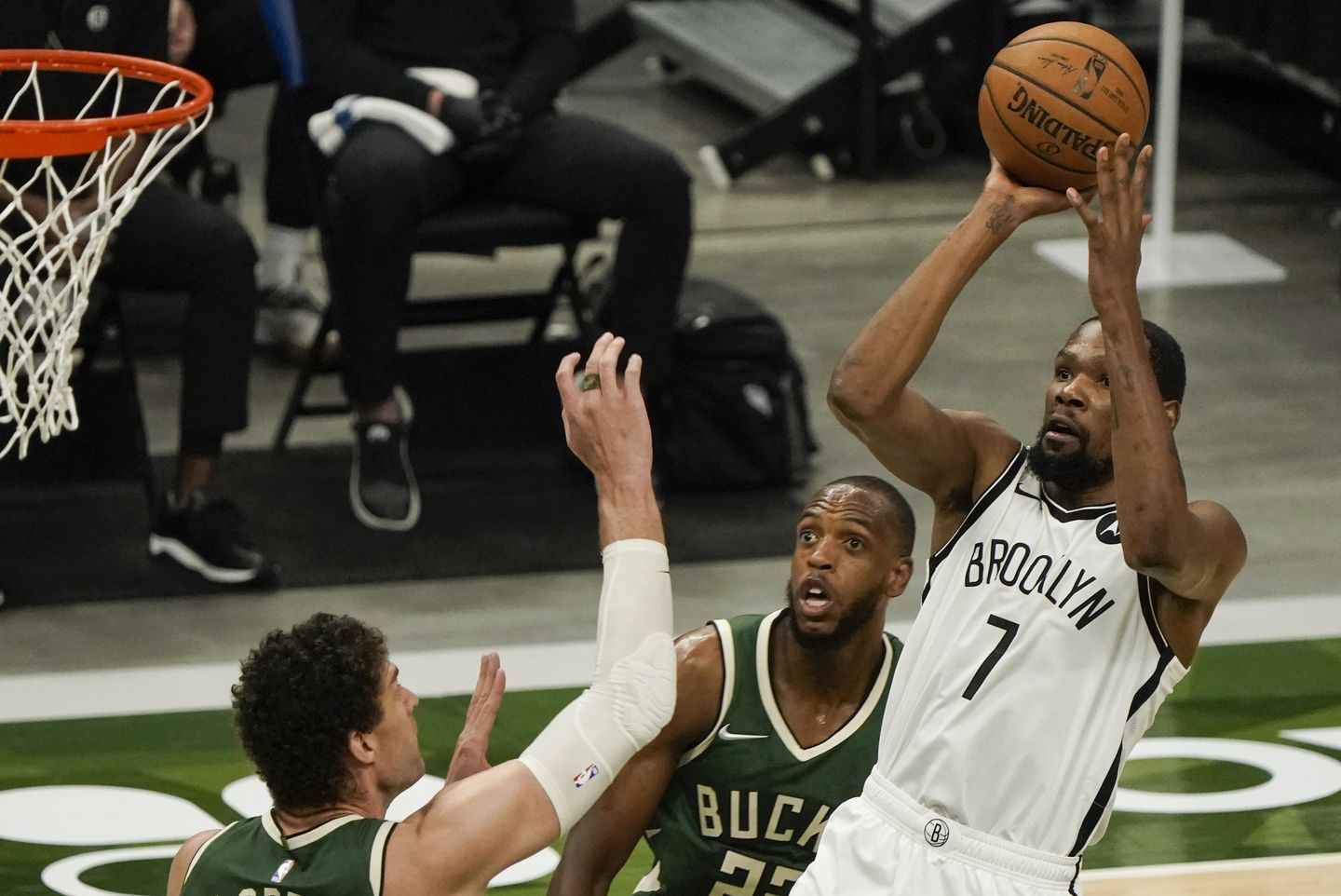 Giannis Antetokounmpo scored 49 points, Khris Middleton had 26 points and 11 rebounds, and the Milwaukee Bucks edged Kevin Durant and the Brooklyn Nets 117-114 on Sunday.
Antetokounmpo also had eight rebounds, four assists and three blocked shots. He went 21 for 36 from the field, helping Milwaukee overcome a terrific performance by Durant. Antetokounmpo finished three points shy of his career high, set against Philadelphia in March 2019.
The Bucks (40-24) won for the third time in four games to pull within 2 1/2 games of the Nets (43-22) in the three-way battle for the top spot in the Eastern Conference. Philadelphia is on top at 42-21 heading into its matchup with San Antonio on Sunday night.
Milwaukee hosts Brooklyn again on Tuesday night.
KINGS 111, MAVERICKS 99
DALLAS (AP) – Buddy Hield scored 27 points, Marvin Bagley III had 23 points and nine rebounds and Sacramento completed a season sweep of Dallas.
All three games were in a span of 15 days, which the Mavericks finished with a 6-0 record against the other teams while going 0-3 for the second time in three seasons against the Kings.
Luka Doncic scored 30 points before getting ejected in the final minute after his second technical foul in another game without European sidekick Kristaps Porzingis, who is battling right knee soreness. Dallas sixth man Tim Hardaway Jr. missed his second game of the season with right ankle soreness.
But the Kings, 12th in the Western Conference and with little hope of reaching the 10th seed that would get them into the play-in tournament, were short-handed, too. Rookie Tyrese Halliburton was forced to leave in the third quarter with a left knee injury, with the Kings already missing two other starters in De'Aaron Fox (COVID-19 protocols) and Harrison Barnes (left thigh injury).
Eastern Conference.
Miami's win combined with Boston's 129-119 loss to the Portland Trail Blazers leaves the Heat (35-30) a full game ahead of the Celtics with seven games remaining.
Kendrick Nunn added 19 points and Goran Dragic had 18 for the Heat, who have won four of their last five.
P.J. Washington had 21 points on 9-of-13 shooting for the Hornets (31-33), while rookie LaMelo Ball finished with 14 points, six rebounds and five assists in his second game back from a broken wrist.
–
More AP NBA: https://apnews.com/hub/NBA and https://twitter.com/AP_Sports
Copyright © 2021 The Washington Times, LLC.