— Gadgets
ASEAN demands Myanmar leaders end violence against civilians
Southeast Asian leaders have demanded an immediate end to killings and the release of political detainees in Myanmar in an emergency summit of regional leaders in Jakarta.
The meeting was attended by junta leader Min Aung Hlaing who has become the focus of international outrage over a military coup and crackdown that has left more than 700 dead. The senior general's first foreign trip is since security forces staged a coup that ousted civilian leader Aung San Suu Kyi in early February.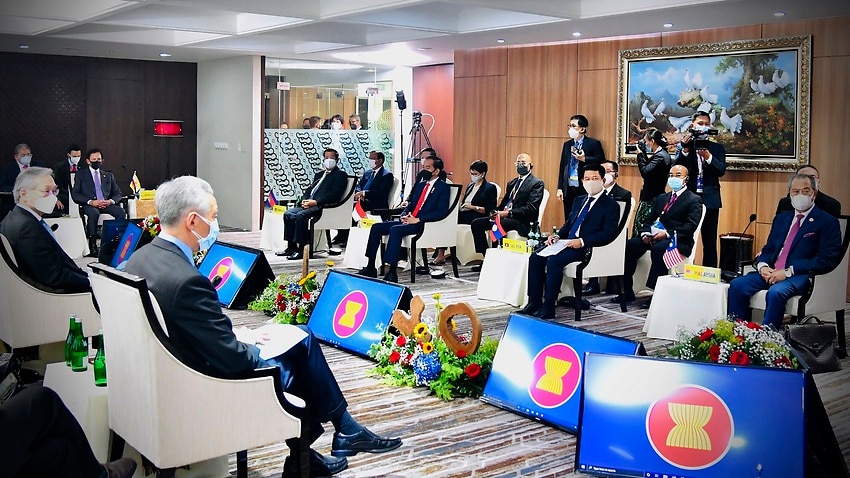 Malaysian Prime Minister Muhyiddin Yassin declared the meeting a success, saying regional leaders secured an agreement from Myanmar to stop the violence against civilians. We have succeeded. It's beyond our expectation to get the outcome from today's meeting.
Mr. Muhyiddin said, according to news agency Bernama. Diplomats said a five-point plan was agreed upon, including starting dialogue and ending violence. The consensus among the Association of Southeast Asian Nations (ASEAN) leaders also included allowing humanitarian help in the country, releasing political prisoners and appointing a special ASEAN envoy for the Myanmar crisis.
Indonesian President Joko Widodo said regional leaders made clear their views.
"The first requested commitment is for the Myanmar military to stop the use of violence and that all parties there at the same time must refrain so that tensions can be reduced," Mr Widodo said.
"The violence must be stopped, and democracy, stability, and peace in Myanmar must be restored."
21 April: Myanmar forces suppress anti-coup protest in Dawei
He also called for the release of political prisoners and for a special envoy to be allowed into the country to "push for dialogue" Singaporean Prime Minister Lee Hsien Loong, meanwhile, called on the military to release Myanmar's ousted president, as well as democracy icon Suu Kyi who is under house arrest. He said Min Aung Hlaing had indicated he was not opposed to Myanmar receiving a delegation with aid, sent by ASEAN.
But he said follow-through would be something to monitor.
"There's one thing to say you'll cease violence and release political prisoners; it's another thing to get it done." Saturday's meeting follows mass protests which have been met by a brutal crackdown that has left blood on the streets. An estimated 250,000 people have been displaced, according to a UN envoy, with Myanmar's democratically elected top leaders in hiding or under house arrest. Also, at the weekend meeting, the Sultan of Brunei, the current chair of ASEAN, and leaders and foreign ministers from most of the 10-country group, including Malaysia, Cambodia, Thailand, Vietnam, the Philippines, and Laos.
Small protests outside the bloc's Jakarta headquarters were dispersed by security personnel.