All it took was a momentary lapse in concentration from Rangers defenseman Brendan Smith, haphazardly playing a pass across his goalmouth. That allowed Daniel Sprong to pounce, charging forward, intercepting the key, and finishing around the sprawled-out New York goaltender.
Sprong's tally early in the third period Monday put the Capitals ahead for good on a night that could have gone quite differently. Washington was shorthanded, without several key players — Alex Ovechkin among them — and was coming off two losses to the Pittsburgh Penguins.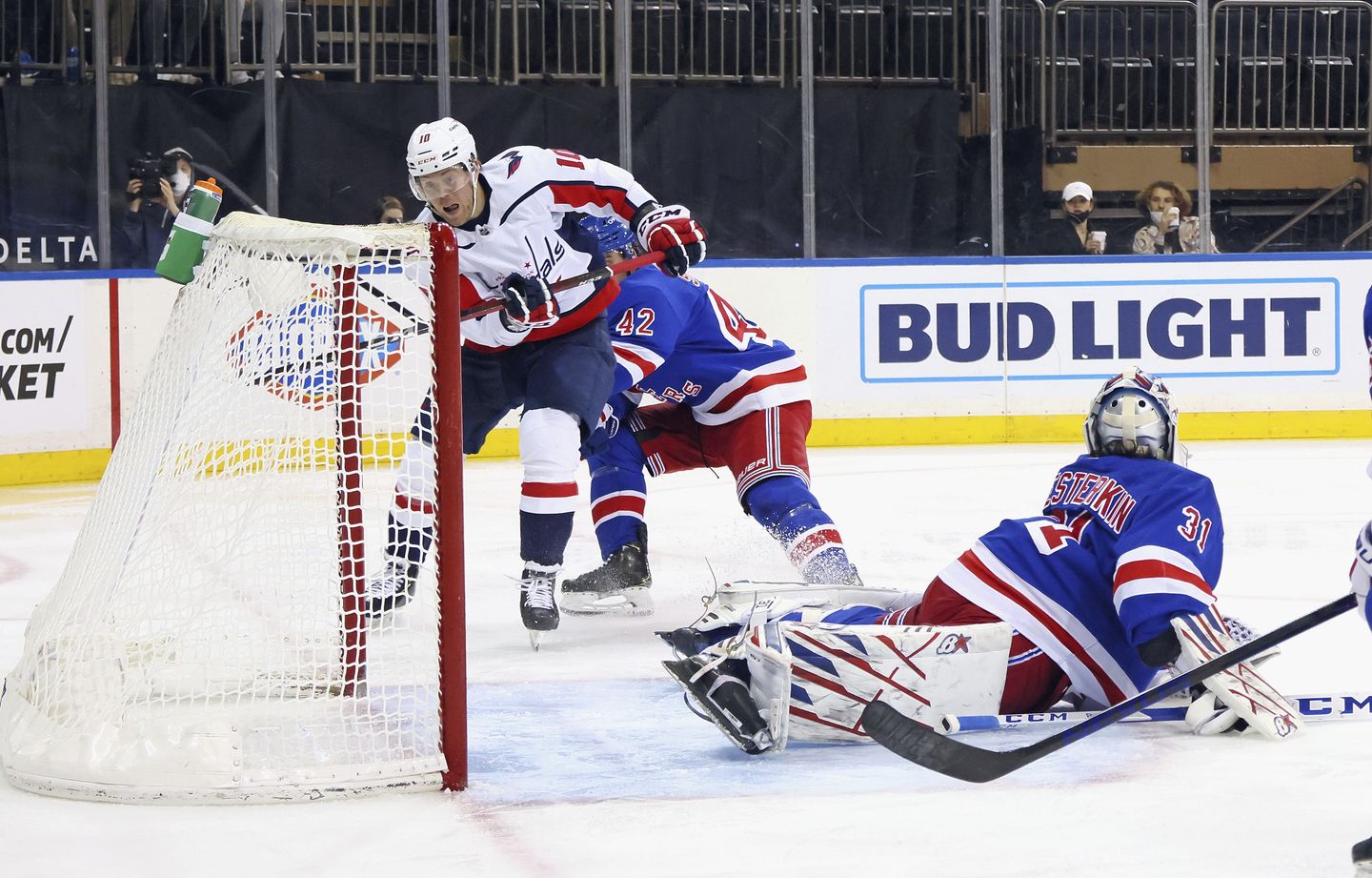 But the Capitals have weathered the recent storm of absences, and Sprong's performances have been a significant reason why. On Monday, he fired off a career-high seven shots, scoring once, and played a season-high 17:10.
With another meeting with the Rangers on Wednesday and the status for Ovechkin and others still unclear, Sprong will once more handle a significant role. Based on his recent form, he's up to the task.
"He's given us a huge boost in the last handful of games," defenseman John Carlson said. "I think he's just a dangerous player that is getting a lot of good opportunities right now, a lot of ice time and power play time, and he's making the most of it."
Sprong slotted into the lineup to replace Ovechkin when Washington's leading goal scorer suffered a lower-body injury, and Sprong immediately made his presence felt. Late in the second period of Sprong's first fill-in appearance April 24, the Netherlands native converted Evgeny Kuznetsov's cross-crease pass into a goal. He added a second score off a faceoff in the third period.
And less than two minutes into the Capitals' win on April 27 against the New York Islanders, Sprong sniped a shot into the upper corner of the net. Sprong has had five goals in his last five games. He scored in the overtime loss to the Penguins last week before lifting Washington on Monday.
"I've really noticed Daniel's skating well," coach Peter Laviolette said. "Like, he's really moving; he's trying to attack the game with speed. He is a fast player. I think the goals are a result of that because when he's moving, he's dangerous. But there are other things too that I've thought have been good. He's been trying to play physical; he's been trying to get into battles."
The Capitals still have a selection headache ahead of them, with the possibility of playing with 11 forwards and six defensemen on Wednesday. Laviolette said that Ovechkin is "unlikely" to play Wednesday, as the team remains cautious with his injury. Ovechkin returned Monday and appeared for one 39-second shift before exiting for the remainder of the contest. On Monday, Washington also played without goaltender Ilya Samsonov and Kuznetsov after they were late to a team function. Laviolette didn't know if they'd be available Wednesday, saying the Capitals were "working through things inside the room."
Kuznetsov wound up on the league's coronavirus protocol list Tuesday for the second time this season. He already missed eight games between January and February, and he confirmed that he had contracted the virus and showed symptoms once he returned.
T.J. Oshie also missed Monday's contest because of personal reasons, and the winger announced Tuesday on Twitter that his father, Tim, died. So like Monday, the Capitals could be forced to play Wednesday with fewer players than usual. "It's just band together," Garnet Hathaway said of the mentality needed to play shorthanded. "I think we had a lot of adversity that we had to go through. You shorten the bench, and you know you've just got the guys next to you to play the game."
That opens doors for depth pieces to make significant contributions, helping to carry the team onward with four games remaining and an East Division title on the line. So far, those players have done enough to keep Washington in the running for the division's top seed entering the playoffs. And Sprong has been a sizeable piece in a playoff push, with five goals in five games, making him more than a replacement player. "There are holes created for whatever reason, and guys are just doing their jobs and not just filling that role but playing really well in that role," Carlson said. "And I think [Sprong's] been a big proponent of that."
Sign up for Daily Newsletters