— Sports
Four takeaways from Maryland football's spring game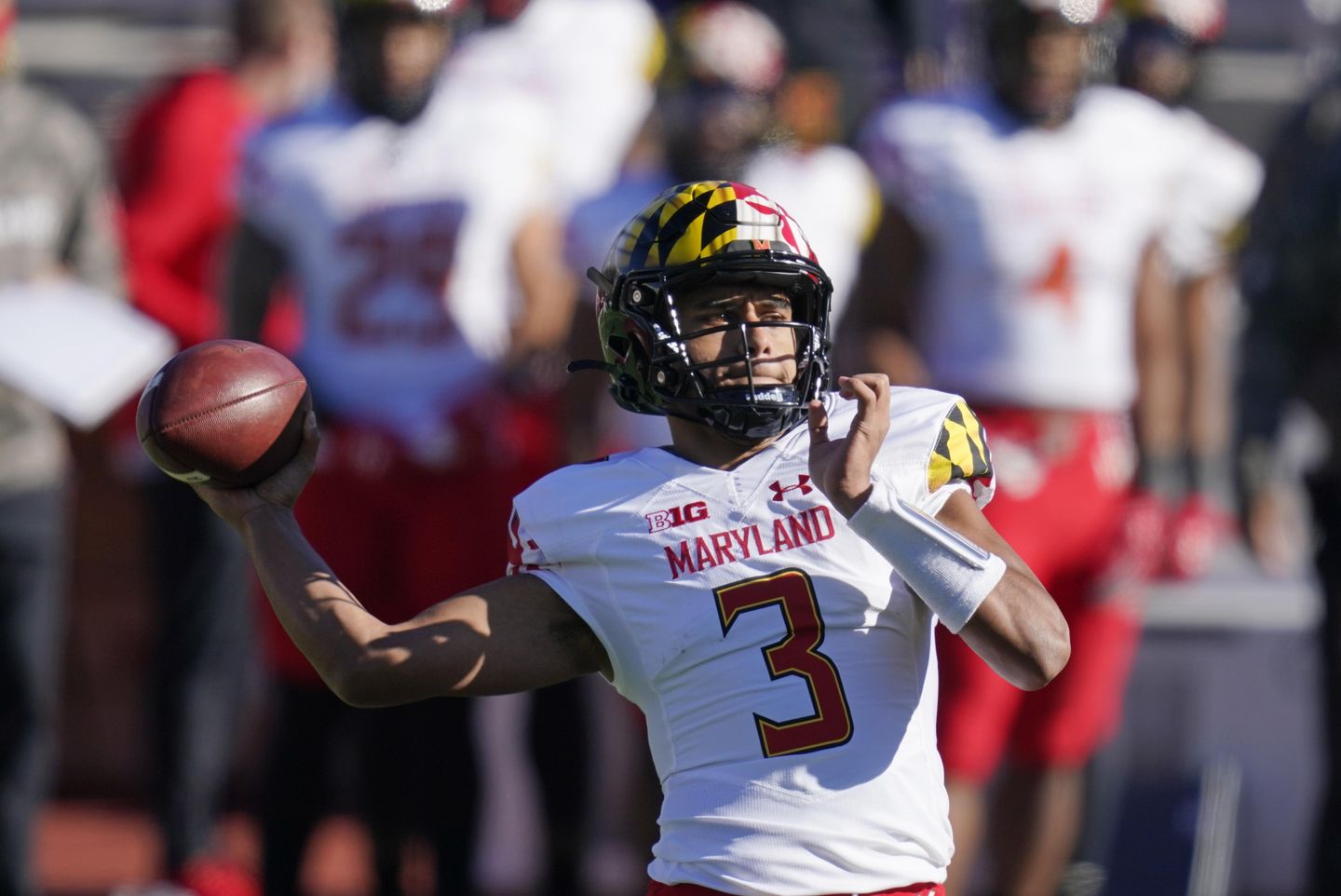 When Maryland football took the field Saturday, split in two groups for the spring football game, the squads featured many of the key players who showed promise in an abbreviated and coronavirus-altered 2020 season.
There was Taulia Tagovailoa, starting again under center after impressing in his first year in College Park. A whole host of his top pass catchers returned, too, including Dontay Demus, Rakim Jarrett and Brian Cobbs. In all, the Terrapins returned 86% of their offensive production from the fall, a solid base as coach Mike Locksley enters his third season at the helm.
There are plenty of familiar faces from a young defense returning as well, creating an evenly matched contest. That unit returned 85% of its contributors, and several made large impacts Saturday. So when the first-defense offense (White Team) and first-team defense (Red Team) played at Maryland Stadium in front of a smattering of fans, the product was competitive.
The White Team edged the Red Team, 12-10. But Locksley focused on anything but the scoreboard: He commented on the five turnovers and eight penalties and the drops that nicked Tagovailoa's completion percentage. Those were the blemishes on an otherwise solid day.
"Good teams don't beat themselves," Locksley said, despite this being an intrasquad matchup. "So we've got to continue to work on taking care of the things that we can control."
Elsewhere, though, the Terrapins showed a glimpse at what they might look like once the upcoming fall season comes around. Here are four takeaways from the spring football game:
Tagovailoa and the quarterbacks
When Tagovailoa looks back on his debut season with Maryland, he acknowledges his standout games: such as three passing touchdowns against both Minnesota and Penn State. But for the junior, he's quick to point out his shortcomings, identifying three-interception performances against Northwestern and Indiana.
If there's anything Tagovailoa wants to improve in his second campaign with the Terrapins, it's taking care of the football. That's what he did throughout camp — Locksley said he threw just two picks — and Saturday at the spring game.
Locksley wanted him to adjust his aim to account for the wind on the field. Tagovailoa also dealt with what he described as a strain on the lower right part of his back. That causes him some discomfort when he rotates to throw, but he downplayed the severity of the injury.
"I was pleased with his spring," Locksley said. "In the spring game, the penalties became a factor. He didn't get helped by some of his receivers with some drops in critical situations. But I thought he played well for the most part."
For the Red Team, David Foust earned the start and completed 7-of-16 attempts for 51 yards and an interception. The sophomore has seen more playing time this spring because Eric Najarian, a junior who made his debut in the season finale last year, finished camp with a shoulder injury that will require surgery.
Offensive line
The spring game gave the first glimpse of what could be Maryland's starting offensive line, a grouping that features three returners — Spencer Anderson, Jaelyn Duncan and Johari Branch — as well as two linemen who may see increased roles.
Anderson rotated from the right tackle he played last year to center during the spring game, and Amelio Moran received reps at right tackle. Mason Lunsford, a redshirt sophomore, played left guard. Locksley said Lunsford has been one of the most improved players during spring camp.
"We're really pleased with where he is," Locksley said. "He's a guy who blocks with power. He blocks low-to-high, plays with good leverage. I saw him take another step this spring, man, and really happy for Mason and excited to see him continue to progress. He's put himself in position to earn playing time at the left guard or right guard position for us."
Pass-heavy offense
The running backs received a combined 23 handoffs, but that low usage was by design. Locksley didn't want too much action in the middle of the pile, minimizing the chance for injuries.
With limited opportunities, though, Isaiah Jacobs and Challen Faamatau still showcased speed and agility. Jacobs took seven handoffs for 70 yards, and Faamatau had 10 for 46. He also threw a 41-yard touchdown to Nick DeGennaro on a trick play.
Tayon Fleet-Davis, who's expected to be the lead back, had just six handoffs for five yards. But he did display his pass-catching ability, which gives Maryland another option for Tagovailoa. Fleet-Davis finished with eight catches — tied for a team high — for 55 yards. One of those was a nifty one-handed grab on a screen play.
"When you put a guy like Fleet-Davis, who has receiving skills, I always say he's a triple threat," Locksley said. "He's able to run the ball, catch the ball and then block and protect for the quarterback — which all three are really important. But I think his ability in the passing game opens up our offense."
With Jake Funk departing for the NFL draft, Maryland's running back room will look different from last year, when Funk provided 71% of his team's rushing yards. The onus will be on Fleet-Davis, Jacobs and Faamatau — as well as Peny Boone, who's recovering from shoulder surgery — to pick up the load Funk carried.
Defense
When Jordan Mosley is on the field, his teammates might not hear much from him. But his presence is felt.
"He leads by example," defensive lineman Lawtez Rogers said. "And he brings the same determination and physicality every day, to practice, to games, to the spring game like you've seen. He's a difference maker."
Mosley made quite a difference Saturday for the first-team defense, earning the game's MVP award. The linebacker recorded a game-high eight tackles and added two forced fumbles and two pass breakups. So while he might not be the loudest on the field, the Terrapins know he's a pivotal piece in a unit that is returning several key players, such as defensive backs Tarheeb Still and Nick Cross and linebacker Ruben Hyppolite.
Rogers also was a force for the defense Saturday, breaking into the backfield for three sacks. With Tagovailoa in a non-contact jersey, Locksley said some of the pressure might've been avoidable. But Rogers still stood out on a defensive unit that held the first-string offense to 12 points.
"We got after the quarterback, we made some big plays when it counted," Rogers said. "We held them to field goals, which I feel as though is really, really big. I feel like that can translate right over to the season. It shows the effort and determination that we play with as a defense."