— Sports
'Just horrible': Rangers react to Tom Wilson's actions in brawl
On Monday night, New York coach David Quinn said, Tom Wilson went overboard with his physicality during a second-period scrum in the Capitals' 6-3 win against the Rangers.
Wilson, who has a reputation for physical play that can lead to penalty box minutes and suspensions, appeared to take issue with how the Rangers crashed the net around Washington netminder Vitek Vanecek.
After Pavel Buchnevich fought for the puck near the crease, the New York forward fell to the ice. Wilson then punched Buchnevich in the back, seeming to drive Buchnevich into the ice. That kicked off a giant scrum.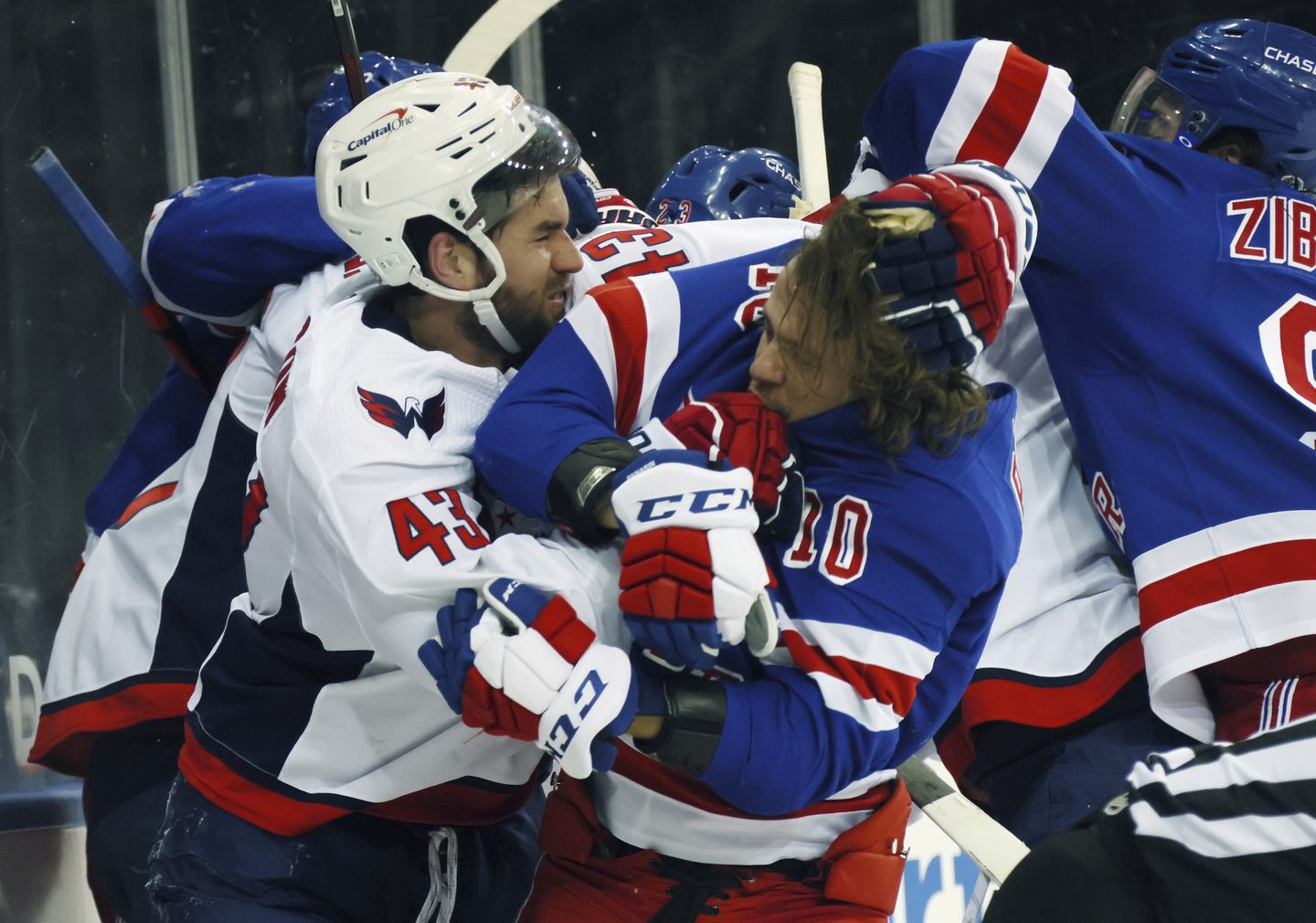 Rangers center Ryan Strome pulled Wilson off Buchnevich, Artemiy Panarin grabbed hold of Wilson from behind. Panarin and Wilson then got in a tussle, resulting in Wilson pulling off Panarin's helmet and throwing him to the ice. He pushed Panarin down again when the Russian forward tried to get up.
Panarin left the game with a lower-body injury and didn't return. Panarin earned a two-minute roughing penalty, and Wilson was handed a double-minor for roughing and a 10-minute misconduct penalty. He went on to score an empty-net goal late in the third to seal the Capitals' victory. "We all saw it. Some lines can't be crossed in this game. There's just zero respect for the game in general. You got one of the star players in this league now that could have gotten seriously, seriously hurt in that incident," Quinn said. "You all saw what happened, and it happens time and time again with him. Totally unnecessary."
Wilson has been suspended five times in his NHL career, most recently serving a seven-game ban for a boarding violation on Boston Bruins defenseman Brandon Carlo in March. The NHL has yet to announce if Wilson will have a hearing over his latest actions.
"I figure you should have some more respect for the game and for the players," Rangers center Mika Zibanejad said. "I don't honestly know where to start; it's just horrible. Zero respect. I don't know why I'm surprised, but yeah, just horrible."
When asked for his views on the sequence, Capitals coach Peter Laviolette held a different perspective.
"I thought it was just a scrum, like physical play," Laviolette said. "Something was going on originally with the goalie and the jamming at the goalie. We had a bunch of players jump in there. Happens a lot."