— Gadgets
More cash for Sydney workers and businesses amid extended COVID-19 lockdown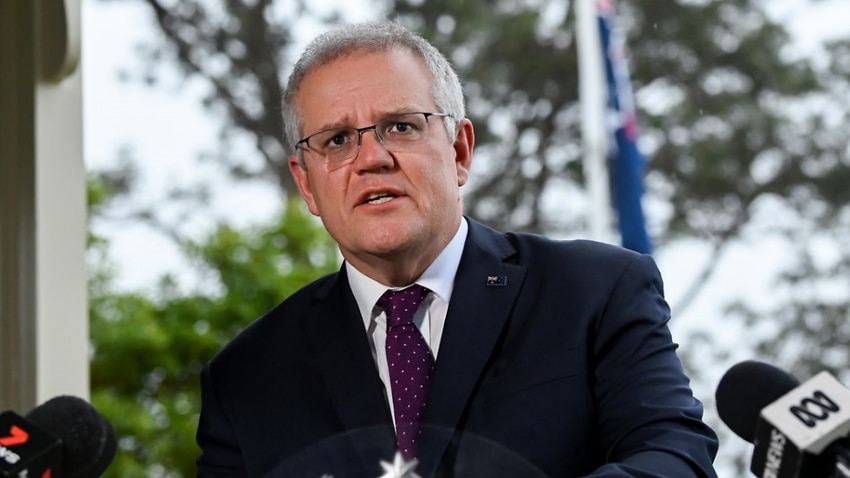 More money will be handed to people who have lost work and cash grants will be delivered to businesses struggling in Sydney's extended COVID-19 lockdown. 
Prime Minister Scott Morrison announced the additional support measures on Tuesday after finalising the details of the deal with the NSW government.
The COVID-19 disaster payment for workers will be increased from $500 to $600 each week if a person has lost 20 or more hours from next week.  
People who have lost between eight and 20 hours will have payments increased from $325 to $375 each week. 
Mr Morrison said the temporary measures were aimed at delivering support as quickly as possible. 
Increased payments for workers
"You don't have to have lost your job, you don't have to have left your employer. It doesn't matter who your employer is. If you have lost those hours, you can access that payment right now," he told reporters.
The COVID-19 disaster payment will also be made a recurring payment via Services Australia for as long as restrictions remain in place. 
The payments will begin to flow from 16 July for the initial four local government areas to go into lockdown – Woollahra, Waverley, Randwick and the City of Sydney – and for the rest of the Greater Sydney region from 19 July. 
Mr Morrison said the payments would help keep workers who have lost hours connected to their employer, in a similar vein to the previous JobKeeper model.  
"This is a next level of partnership that's necessary to ensure the sacrifices that have been made across Greater Sydney and across New South Wales are going to get the results that we're looking for," he said.
'Gives us the freedom'
NSW reported 89 new locally acquired cases of COVID-19 on Tuesday with the state's Premier Gladys Berejiklian declaring there would be no end to lockdown restrictions until cases get to "zero or close to zero." 
Ms Berejiklian said the economic support would help efforts to encourage NSW residents to comply with health restrictions.
"It gives us the freedom to do what we need on the health side by asking everybody to respect the advice that we're providing," she told reporters. 
"Individuals and families and businesses don't have to stress and they know that for the duration of the lockdown, the support will be there and the support will be there." 
But Labor's Shadow Treasurer Jim Chalmers has raised concerns unlike the JobKeeper scheme – workers will still be at risk of being laid off. 
"The most important thing we need to see in this package is a guarantee that workers will keep their jobs," he told reporters.
"We don't want to see the government discard the best most important aspects of Jobkeeper just so they don't have to admit that they were wrong to cut it." 
Aid for businesses, sole traders and not-for-profits
More support for small to medium businesses will also be introduced under a 50/50 cost sharing arrangement between the Commonwealth and NSW.
From week four of the lockdown, businesses who have lost at least 30 per cent of their revenue will be eligible for the additional support via Service NSW.  
These businesses will be able to access 40 per cent of their NSW payroll payments, through payments of a minimum of $1500 and a maximum of $10,000 per week.  
The new small to medium business support payment will be available to NSW businesses, including not for profits, with an annual turnover between $75,000 and $50 million.
To receive the payment, business will be required to maintain their full time, part time and long term casual staffing level as of 13 July.
Eligible entities, which includes not-for-profits, will receive payments of between $1,500 and $10,000 per week based on the level of their payroll
For non-employing businesses, such as sole traders, the payment will be set at $1,000 per week.
The new arrangements would also apply to other states and territories determined a Commonwealth hotspot that face extended lockdown restrictions. 
Employer groups hope to see quick access to funds

Employer groups have welcomed the funding and said they hope to have quick access to the aid.
Daniel Hunter, chief executive of the state's peak business organisation, Business NSW, said the funding is a lifeline.
"It is a lot less expensive for the federal government and the state government to subsidise this package than the cost of JobKeeper," he told SBS News. "But it does maintain that connection and hopefully it keeps people in jobs and businesses open." 
The NSW government has also reinstated an eviction moratorium for tenants who have lost at least a fifth of their work, and is offering rebates to landlords who help ease rental stress on tenants impacted.
The Commonwealth and NSW governments have also agreed to a $17.35 million in mental health support to support services, including those helping culturally and linguistically diverse communities.
The Ai Group's chief executive Innes Willox said the financial support package would also help revive the economy.
"Insulating those worst affected by longer lockdowns will not only help put a cap on the impacts on individuals and businesses, it will help maintain the overall health of the economy," he said.