— Sports
Nationals squander chances as Braves secure series sweep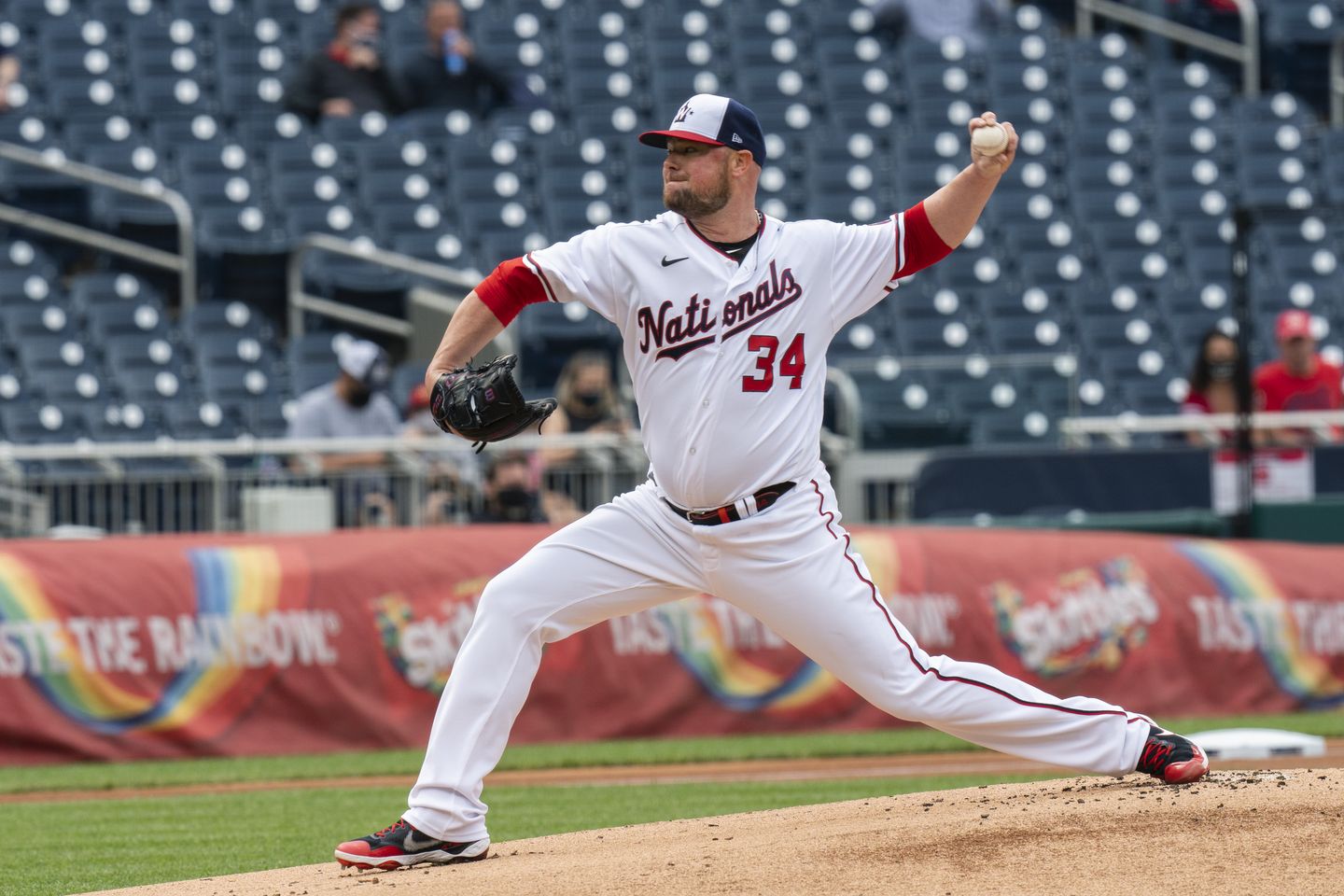 If the Nationals could plan ahead, hand-picking their ideal batters in a key situation, it would likely look akin to how the bottom of the seventh inning played out against the Atlanta Braves on Thursday.
Kyle Schwarber walked to lead off the frame, and Victor Robles followed with a single. That set up a two-on, no-out scenario for Juan Soto, Trea Turner and Yadiel Hernandez — three of Washington's best hitters. But Marcell Ozuna tracked down Soto's liner to left field on the run. Turner grounded into a fielder's choice. And Hernandez also grounded out, ending the threat with nothing to show for the traffic on the basepaths.
That's the way this Nationals offense has been operating lately — getting runners on and the struggling to get them home. The missed opportunity loomed large Thursday. The Braves withstood ample pressure in the seventh, eighth and ninth innings to hold onto a 3-2 win against the Nationals, securing the series sweep.
Jon Lester started his second game of the season, allowing three runs on four hits while walking two and striking out five. He struggled his second time through the order, but he and the relievers who followed kept the game close for Washington.
Instead, the Nationals couldn't quite break through. Josh Harrison led off the eighth with a double and Starlin Castro followed with a walk, and Yan Gomes soon drove an RBI single into right field to cut Washington's deficit to one.
But Schwarber struck out, swinging through three curveballs from Braves left-hander Grant Dayton. Victor Robles watched two strikes go by before battling back to a full count. He laid off a curveball below the knees, although home plate umpire Nick Mahrley wrung Robles up.
Robles, already on his way to first, hopped in place, incredulous at the call. The Nationals' dugout let their opinion be heard, too. But no amount of bickering would bring a run home, and pinch hitter Ryan Zimmerman was left in the on-deck circle rather than having a chance to bat with two outs and bases loaded.
Zimmerman led off the ninth with a double, again putting the Nationals in business. But Turner flew out, Hernandez struck out and lined out, leaving the tying run at third.
Those late moments, when big innings were possible yet just out of grasp, left Lester saddled with a loss. The 37-year-old left-hander faced the minimum through three innings, but his second time through the order brought issues. Ronald Acuna Jr. sent a cutter Lester left over the heart of the plate into left field, then swiped second and took third when Gomes' throw sailed into center field.
Washington opted to draw the infield in, giving their fielders a chance to throw home if a ball was hit right at them.
Instead, Lester rebounded to strike out Cristian Pache and Dansby Swanson before Ehire Adrianza drove two runs in with a hard-hit single up the middle. Washington entered Thursday's contest hitting .211 with runners in scoring position while averaging 3.5 runs per game — both in the bottom three of the majors — and the team continued that trend in the series finale.
Washington hit 1-for-12 with runners in scoring position and stranded 10 baserunners, with none bigger than the five left on in the seventh, eighth and ninth innings.