— Gadgets
NSW has introduced new COVID-19 restrictions. Here's what you can and can't do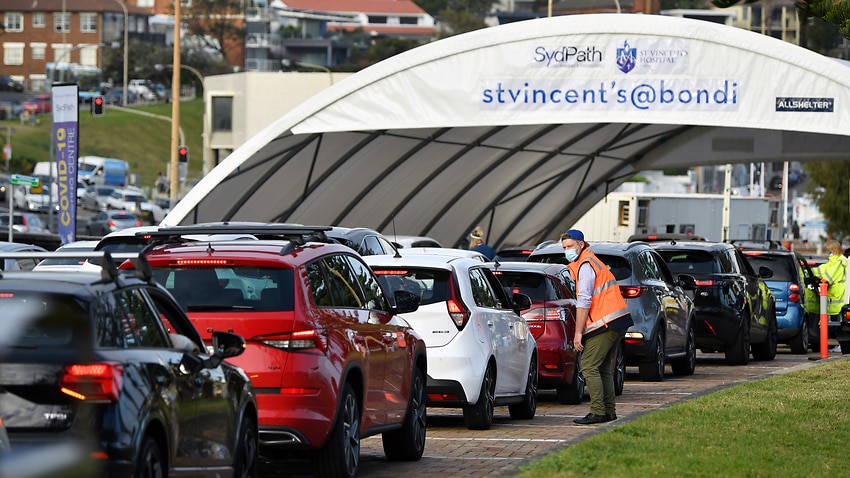 As health authorities rush to contain a fast-evolving COVID-19 outbreak of the highly contagious Delta variant, public health measures across a number of regions in NSW are changing. 
The restrictions, which apply to residents in Greater Sydney, the Central Coast, Blue Mountains, Wollongong and Shellharbour, came into force at 4pm on Wednesday and will remain in place for at least a week.
Here's what you need to know. 
Gathering limits are back
Visitors to households are limited to five guests, including children.
Outdoor seated events can go ahead, but at 50 per cent capacity. 
The "one person per four square metre" rule has been reintroduced for all indoor and outdoor settings. 
Face masks compulsory
Face masks are compulsory in indoor non-residential settings where patrons are not eating or drinking. 
These venues include supermarkets, workplaces, public transport, and organised outdoor events. 
More information – including the full list of rules – is available on the NSW government website.
"We want to ensure there is more widespread mask-wearing," NSW Premier Gladys Berejiklian said on Wednesday.
"If you are in any setting, including a workplace, including Parliament House, except if you are speaking, you should wear a mask."
New restrictions for bars, restaurants, and clubs 
Singing and dancing at indoor venues have been outlawed. Patrons are also required to remain seated while drinking.
"We don't want any mingling," Ms Berejiklian said.
"All people must be seated in any setting". 
Singing has also been banned in religious and worship settings. 
Restrictions on gym classes
Dance and gym classes are limited to 20 people, who are also required to wear a mask for the duration of the activity. 
People working out at gyms individually are not required to wear a face mask. 
Some changes to weddings and funerals
Dancing is still permitted at weddings for the bridal party only, which must not exceed 20 people. 
The "one person per four square metre" rule also applies to weddings and funerals. 
Non-essential travel limited for some Sydneysiders
Anyone who lives or works in the City of Sydney, Waverley, Randwick, Canada Bay, Inner West, Bayside and Woollahra local government areas are restricted from leaving metropolitan Sydney for any non-essential reason.
"This comes down to health orders but also exercising common sense," Ms Berejiklian said.
"We are not putting any restrictions on you leaving the home for any purpose, but if you happen to live or work in those seven LGAs, we don't want you moving outside of Sydney."
Interstate and trans-Tasman travel
New Zealand has suspended the trans-Tasman bubble arrangement after a Sydney man travelled to Wellington before testing positive on his return.
Tasmania and Victoria have also introduced a travel ban for people who have recently been in the above mentioned seven local government areas.
Returning residents will be forced to undergo a 14-day quarantine, while anyone else wishing to travel will be forced to apply for an exemption.
Western Australia also introduced a hard border closure with NSW on Wednesday, banning anyone who has recently been in the state since 11 June from travelling without an exemption.  
South Australia followed suit shortly afterwards, closing its border with NSW to everyone but exempt travellers and residents of communities along the border.
Queensland has declared all of Greater Sydney a hotspot, and nobody who has been there, except people with exemptions and returning Queenslanders, will be permitted to enter the state from Thursday morning. Those who can enter Queensland will need to complete 14 days of quarantine.