— Sports
Russell Westbrook gifts shoes, fans get wild game in return to Capital One Arena
As Russell Westbrook headed off the court following the Wizards' 118-114 win over the Golden State Warriors, the former MVP stopped and pointed to some fans sitting nearby. Westbrook hadn't had the opportunity to do what he was about to do with the home stands empty all season: He took off his sneakers and tossed them to the fans.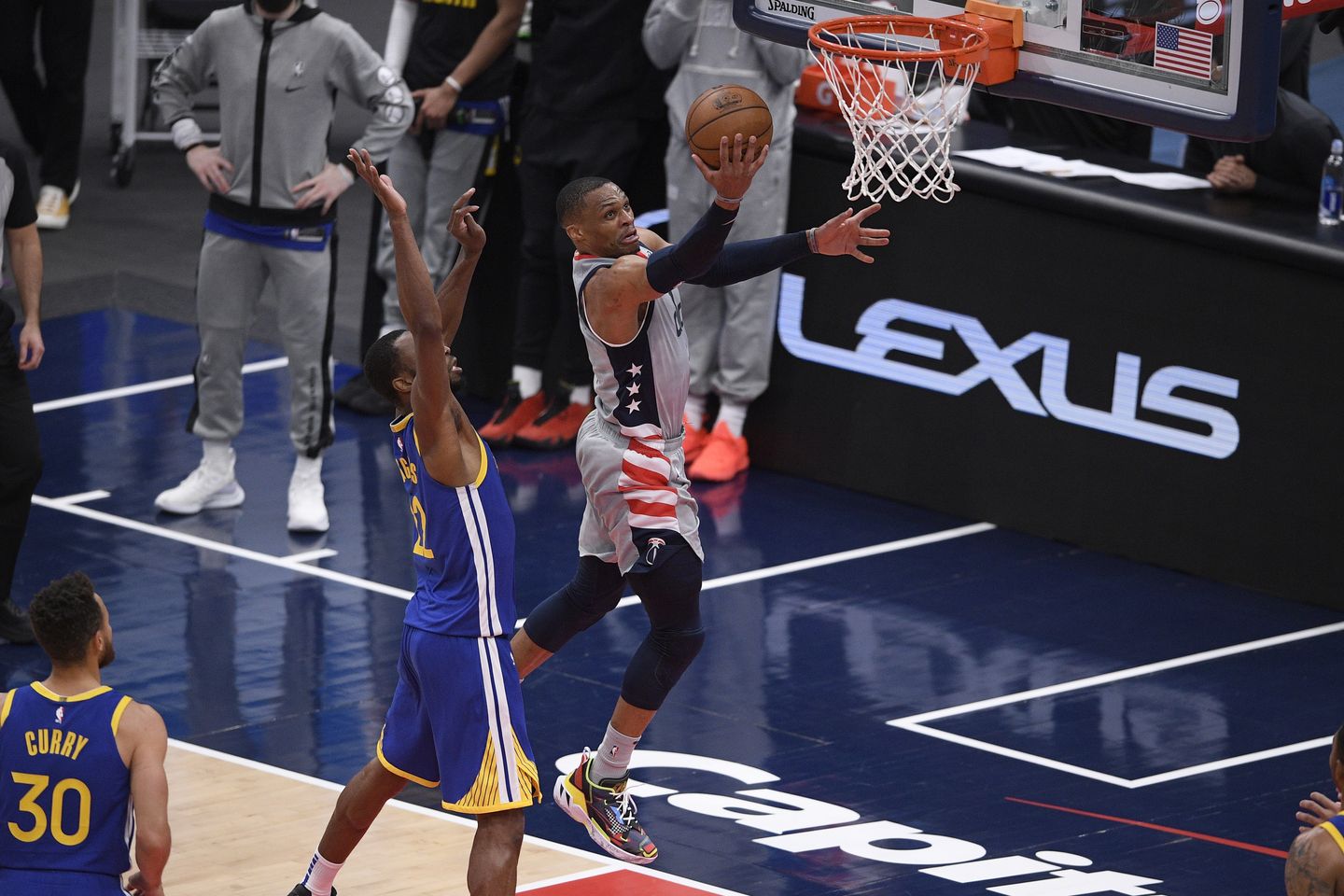 It was a gift on a night when Westbrook and the Wizards were appreciative fans were finally back. 
The Wizards hosted 2,100 fans for Wednesday's dramatic come-from-behind win. The attendance was considerably smaller than normal circumstances — just 10% capacity because of pandemic-related restrictions — but players said they felt even that amount made a difference as Washington rattled off a 25-10 run to close the game.  "It was great, man," Westbrook said. "I know the fans they were excited to get into the arena and watched some basketball. So happy we were able to bring home the victory.
I look forward to some more home games and bringing more people to the arena and getting fans excited by the things in the near future for us."
The fans certainly seemed excited to be back. A group hung a banner welcoming Westbrook to the District — even though Westbrook has played with the Wizards for months, Wednesday was his first as a Wizard in which Capital One Arena had a paying audience.
There were plenty of notable names in attendance, too. Washington Football Team coach Ron Rivera watched from a suite with his family. UConn women's star Paige Bueckers, Maryland football coach Mike Locksley and rapper Pusha T were also there.
Before the game started, Wizards guard Bradley Beal delivered a message and thanked fans for being there.
"We know COVID's been striking us like crazy, but we want to thank you all for coming out tonight," Beal said. "We know it's a small, little step forward, but it's a step nonetheless. Thank you all. Hope you all enjoy the night. Remember to mask up, stay safe. Let's go Wiz."
The crowd also got their money's worth. Wednesday's game, hyped as a showdown between Beal and Stephen Curry, turned out to be a wild contest that featured the Wizards blowing a 19-point lead, falling behind by as many as 10 and then storming back in the fourth.
The victory was Washington's sixth straight, and the team captured sole possession of 10th place in the Eastern Conference, the last spot in the NBA's play-in tournament.
"That was one of the wildest games I've ever coached," Wizards coach Scott Brooks said.