— Sports
Scott Brooks: Russell Westbrook is the second-best point guard of all time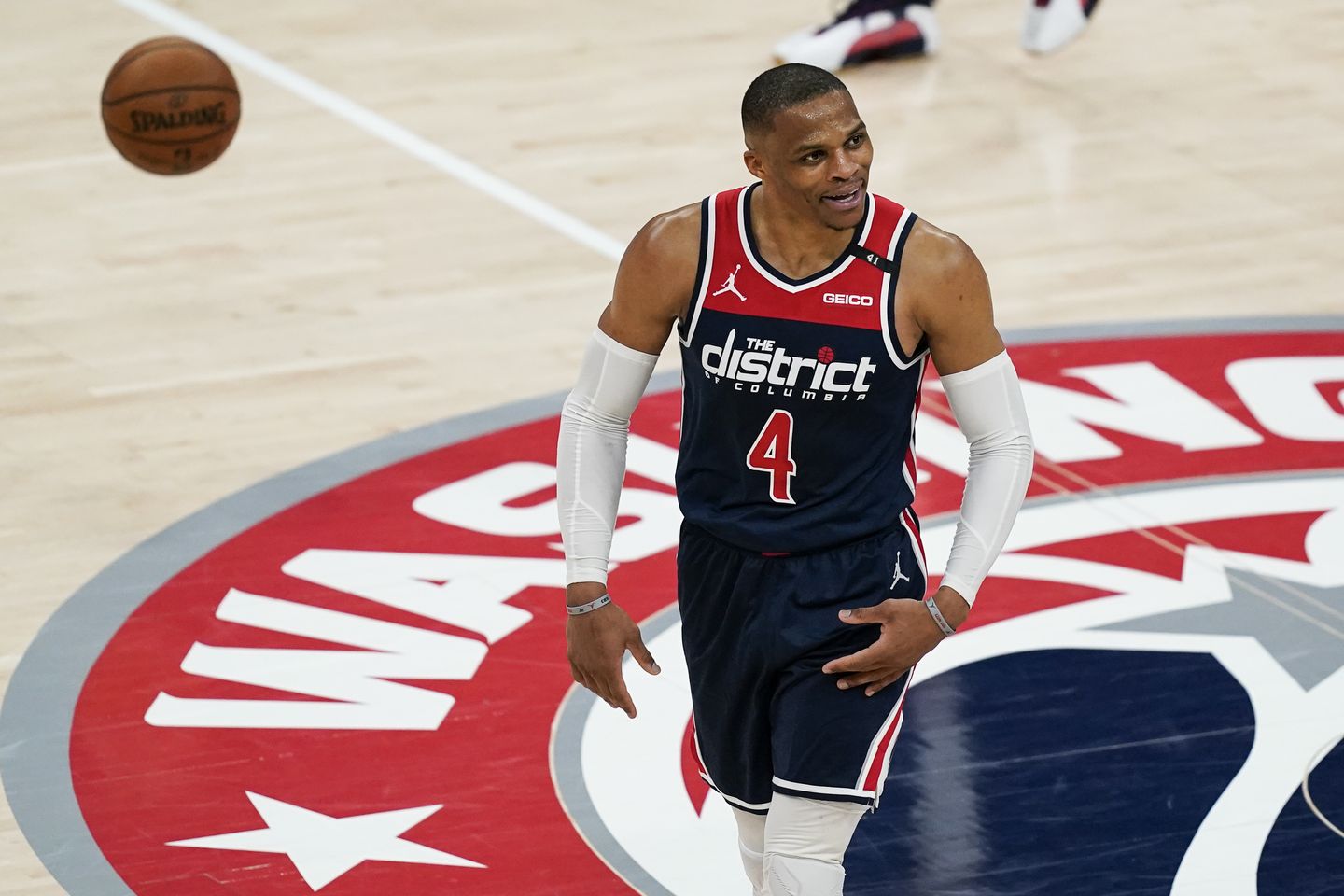 Since Russell Westbrook first averaged a triple-double five years ago, the nine-time  All-Star has become linked to Hall of Famer Oscar Robertson. When Westbrook approaches or breaks a record involving triple-doubles, Robertson is usually the previous holder.
But after another historic performance Monday from Westbrook, there was another legend coach Scott Brooks brought up in relation to the star Wizards guard.
Specifically, Brooks said Westbrook will go down as the second-best point guard of all-time — behind only Magic Johnson.
"What he does, no point guard has ever done it," Brooks said of Westbrook. "Nobody."
Brooks' ranking of point guards can — and will — be picked apart. But the Wizards coach was correct in one aspect following his team's 154-141 win over the Indiana Pacers: There's practically no one putting up numbers like Westbrook. 
Westbrook recorded just the third game in NBA history in which a player dished at least 20 assists and grabbed 20 rebounds — joining a prestigious group that includes Wilt Chamberlain … and himself. 
Yes, Westbrook's 14-point, 24-assist and 21-rebound performance in Monday's win wasn't even the first time the 32-year-old paired at least 20 assists and 20 rebounds. This time, however, he set a career-high on the glass.
In the process, Westbrook totaled his 178th career triple-double — making him now just three games short of matching Robertson's all-time mark. In fact, as noted by The Associated Press' Tim Reynolds, Westbrook now has more triple-doubles than the late Kobe Bryant had double-doubles (176),
The 6-foot-3 point guard has averaged 21.9 points, 11.2 rebounds and 11 assists per game so far this season, which will make this the fourth time in five seasons that he'll finish averaging a triple-double. According to ESPN, Westbrook could average 0, 0 and 0 over the last seven games and still hit the marker.
The numbers are beyond absurd at this point. Westbrook's teammates resort mostly to laughing when asked about him — because what else is there left to say? Still, when Westbrook performs at this level, when his vision and athleticism can change games single-handedly, the Wizards are getting the player they imagined when they traded John Wall for him in December. 
Scratch that. He might even be better.
"Me personally, I feel like I'm the best playmaker in the league," said Westbrook, whose 24 assists tied a career-high, "because I'm able to do things I think nobody else can do." 
Westbrook's legacy will likely be debated even after he retires. There's no player more polarizing in the game right now: His gaudy stats but lack of championships are cannon fodder for sports debate shows. "First Take" host Stephen A. Smith riled up Westbrook's supporters in late March when the ESPN personality declared Westbrook's historic numbers mean "absolutely nothing" because of the former MVP's spotty postseason history. 
Westbrook rarely engages in discussion regarding the lasting impression he'll leave on the league.  He has said he's more concerned about his off-court legacy — the way he can impact the communities around him through charity — than on-court. 
Growing up, Westbrook said he wasn't the type of kid to make lists ranking his top-five point guards. He'd do that for football, sure — "I wanted to be an NFL player," he said — but for the NBA, he didn't appear interested in the discourse. (Or if he was, he didn't admit it Monday.)
Westbrook, though, said he was "grateful" for Brooks' ranking. He added he was glad to reunite with Brooks, who served as his coach for the majority of Westbrook's tenure in Oklahoma City. 
Brooks is arguably Westbrook's staunchest supporter, often going to great lengths to defend the superstar. One of Monday's many examples: The only teammates who Westbrook doesn't get along with, he said, are the ones who fail to work hard. "Those are the ones stealing money, that just wanted to the check," he said. 
There was a reason Brooks was so thrilled to be coaching Westbrook once again. He knew the impact he'd have on everyone else. The Wizards needed Westbrook's competitiveness, Brooks said — a leader whose "winning spirit" would rub off on others. 
Against the Pacers, Westbrook's passing was contagious. The Wizards had 50 assists — the most in a game since 1990. That ball movement led the Wizards to shoot 61.2% from the field and 40.9% from deep. 
Westbrook, who leads the league in assists, was the conductor of the offense. And he only had eight field goal attempts. 
"It's crazy," said Rui Hachimura, who led with 27 points. "He's a point guard but can do everything. Twenty rebounds is not normal, you know? It's not normal. And he does it every game."
The Wizards are fortunate to have this version of Westbrook — especially since at first, the 32-year-old looked nothing close to the All-NBA player he was in Oklahoma City and Houston. Earlier in the season, Westbrook was slowed by a nagging quad injury, one that left him sidelined and limited his explosiveness.
On Monday, Westbrook acknowledged the full extent of his injury: The quad was torn.  
"I was playing through it and still trying to compete for my guys," Westbrook said. "And then I had the opportunity to kind of rest and be ready to go. With my rest and proper treatment and the staff here … it allows me to be at the level I know I can play consistent on a night-in, night-out basis. 
"I'm in a good position health-wise, especially mentally."