— Gadgets
Victoria to enter five-day lockdown as the state's COVID-19 outbreak grows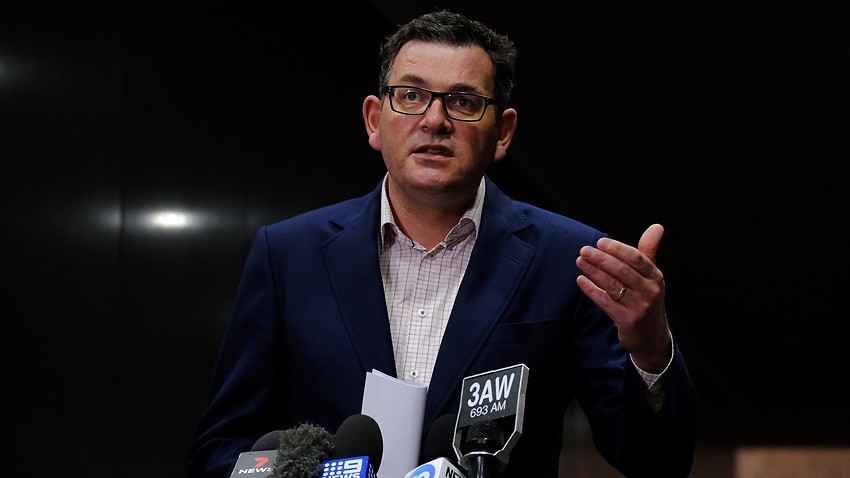 Victoria will enter a snap lockdown from midnight on Thursday in a bid to stop the spread of the Delta COVID-19 variant, Premier Daniel Andrews has announced.
The lockdown will last for five days and residents will only have five reasons to leave home, including shopping for essential items, outdoor exercise, essential work or study where it cannot be done from home, compassionate or medical care, and travelling to receive the COVID-19 vaccine. 
One person per household may leave the house for essential shopping. 
Residents will be restricted to travelling within a five-kilometre radius of their home. 
Premier Andrews said the state's contact tracers and public health experts were moving "faster than they ever have", but that they're "just keeping pace with this virus, not getting in front of it".
"That is why, with a heavy heart … the Chief Health Officer and public health team have recommended to me and my colleagues that we lock down Victoria from 11:59pm tonight until 11:59pm next Tuesday night," he said. 
This will be the state's fifth lockdown since the start of the pandemic and the third in 2021.
There are now 18 active COVID-19 cases in the community associated with two outbreaks in Melbourne, both originating from NSW. 
Premier Andrews said the lockdown would be identical to the most recent one from a few weeks ago.
"If you were authorised to work then, you will be authorised to work now. If you were closed then, you will be closed now," he said.
Businesses who received support during the last lockdown will likely receive the same support over this period, he said.
"In terms of business support, I'll have more to say as early as tomorrow and we will look to fast track payments principally to those who received payments last time," he said. 
"We expect the Commonwealth government will step up and help those people who need the help."
The premier stressed he had preferred the outbreak "had not come to our state". 
"We'd prefer we didn't have to deal with these issues but this is so infectious. This is such a challenge that we must do this. You only get one chance to go hard and go fast," he said. 
"If you wait, if you hesitate, if you doubt, then you will always be looking back, wishing you had done more earlier.
"I am not prepared to avoid a five-day lockdown now only to find ourselves in a five-week or a five-month lockdown."
Premier Andrews said he is "hopeful" the lockdown will not be extended beyond five days, but acknowledged it was a possibility.
"It may be longer because it depends on what every Victorian does," he said. "Millions of Victorians making dozens and dozens of choices every day means there are lots of variable points here."
Asked whether the imposition of the lockdown on regional Victoria was "fair", he said: "Look, nothing about this virus is fair. Nothing about the fact that this virus has travelled from Sydney is fair. That's just the reality we face.
"I apologise to all Victorians that this is necessary. But part of my job is not just making popular and easy decisions, it's doing what must be done and at this stage a state-wide lockdown is what's put to me as essential by the public health experts."
Victoria records two additional COVID-19 cases
Premier Andrews said the state had recorded two additional cases since a previous update earlier on Thursday.
One of the new infections is an additional case linked to an AFL match between Carlton and Geelong at the Melbourne Cricket Ground on Saturday, and the other is a close contact of a resident from the locked down apartment building, Ariele Apartments. 
Of greatest concern are the now three cases linked to the MCG, which appear to be linked to an infectious Maribyrnong man who attended the match and was seated in the member's reserve on level two. 
Mr Weimar said the trio are not known contacts of the infected man and it appeared to be a case of "stranger-to-stranger transmission".
"They were sitting in very different parts of the ground. There's no obvious relationship between them. The interviews and discussions are ongoing," Mr Weimar said.
"Obviously we are working with all three new cases today identified at the MCG. They've got a number of exposure sites and some of those exposure sites are acting there already and we will continue that work over the course of the evening and into the night."
There are more than 75 exposure sites across Melbourne and regional Victoria, with some 1,500 primary close contacts and 5,000 secondary contacts self-isolating.
Mr Weimar said around 20,000 coronavirus tests have already been received on Thursday. 
Premier anticipates 'agreement' over Commonwealth payments
Earlier on Thursday, Prime Minister Scott Morrison announced he will propose a more "streamlined" set of financial supports for states and territories affected by the COVID-19 pandemic when National Cabinet meets on Friday.
Under Mr Morrison's proposal, support payments of either $375 or $600 a week – depending on work hours lost – would start from the second week of a lockdown but be paid in arrears, and the liquid assets test would be immediately waived.
Mr Andrews said he has been "texting all day" with Mr Morrison and "thinks we can come to an agreement" in terms of how the payments would apply to the five-day lockdown.
"Whether it's [paying] five-sevenths of the $600 and the $375, which I would have thought would be a pretty fair thing, if it is a five-day lockdown instead of a seven-day lockdown," he said.
"I'm not going to say, right we're locking down for seven days – two full days extra – which is more than the health advice tells me I need to, in order to qualify for a Commonwealth program when all they ever tell us is that every dollar they spend is based on need.
"Need starts [from] hour one of day one of a lockdown."
Tasmania closes border with Victoria
Tasmania has announced it is closing its border with Victoria in response to the emerging outbreak.
"This decision has been made with the intention [of] ensuring the protection of Tasmania of the risk posed by COVID, particularly the Delta strain," Deputy Director of Public Health, Scott McKeown, told reporters on Thursday night. 
Anyone who has been in Victoria since 8 July won't be allowed into Tasmania unless they receive express permission from the deputy state controller as an essential traveller.
Dr McKeown said the high-risk declaration would be reviewed daily.
– With AAP.