— Gadgets
WA residents in lockdown take part in Anzac driveway services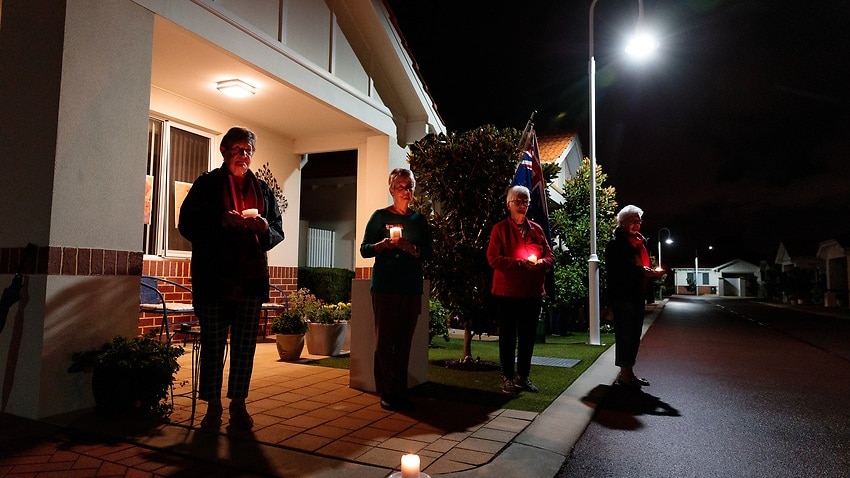 While scaled-down services and marches were back across Australia, around 40 services were cancelled in Western Australia's Perth and Peel regions. 
Residents in Perth and Peel are under a three-day lockdown, which is scheduled to end at midnight on Monday, after a hotel quarantine outbreak led to community virus transmission. 
Sunday marks the 106th anniversary of the landings at Gallipoli, a campaign which ultimately cost more than 8700 Australian lives.
Like last year, residents in Perth and Peel were forced to pay tribute at home by standing at the end of their driveways at dawn.
Glen Robinson and his son played the bugle as part of a driveway service in Perth suburb of Ardross.
Mr Robinson said the atmosphere and experience was very moving. 
"It is a very uniting experience," he told Channel Ten in Perth. "To look up the street and see the candles, to hear the bugles playing in the distance. It is just a very uniting experience, particularly in this current climate."
Other musical tributes were performed at dawn in driveways, including from a violinist Arwen from the Perth College Anglican School for Girls.
The Haka for Life organisation dedicated its Perth service to veterans grappling with mental health. 
COVID-19 restrictions forced the corroboree online. 
"We stand for those who are still suffering in silence, for those who perhaps think that suicide is the only option," said Jamie Schuster from Haka for Life.
"We also stand for those families that suffered through [the death of a family member through] suicide.
"We support you to reach out for support, if you are suffering in silence.
"We stand with you. You are not alone."
Gregory Makutu from the New Zealand consulate in Sydney also addressed the online service.
"Anzac Day is about remembering our fallen and supporting those who return from their overseas service.
"And that is because in 1915 that is when we as the Australian New Zealand army corp first went to war, and landed on the shores of Gallipoli.
"But it is not the war that is the emotional part. It is the casualties – both the physical casualties and the mental health casualties.
He said the impact of that day, 25 April 1915, reverberates more than a century on.
"Some 2,000 Australians and 200 New Zealanders were killed or wounded on that day alone, 25 April in 1915 [during the Gallipoli operation].
"It was a day of confusion and fear for those soldiers. One soldier called it a day of sorrow as he remembered the dead and the wounded."
On Saturday, Western Australia's health department reported a third local case connected to the Perth Mercure Hotel. 
A man in his forties contracted coronavirus after attending a restaurant, the Kitchen Inn in Kardinya.
"The person is now working closely with the Department's contact tracing team to determine public exposure sites," the state's health department said in a statement.  
Health officials are urging those who attended restaurants listed on the list of exposure sites to get tested. 
Test results are expected for 337 contacts who have so far been identified.