— Gadgets
Witness K avoids jail time after pleading guilty to conspiring to reveal classified information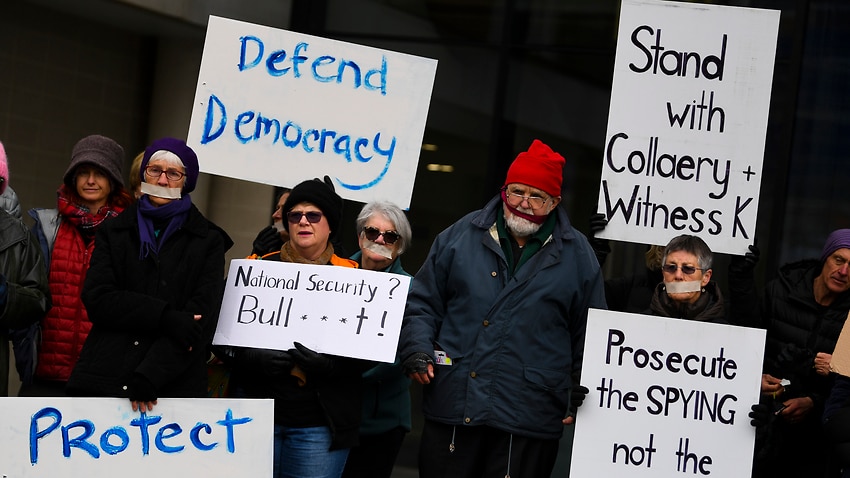 The former spy known as "Witness K" has been spared jail time and instead handed a three-month suspended sentence after pleading guilty to conspiring to reveal classified information.
Witness K had been charged over his role exposing Australia's plans to secretly eavesdrop on the government of Timor-Leste during sensitive negotiations around oil and gas resources in the Timor Sea in 2004.
The punishment handed down on Friday took into account the former officer for the Australian Secret Intelligence Service's old age and illness. 
It came after an extraordinary court hearing at the ACT Magistrates Court, where Witness K had been forced to appear behind makeshift black walls to conceal his identity.
Magistrate Glenn Theakston issued the decision noting the former spy had been motivated by a sense of justice rather than for any personal gain.
But he also stressed the secrecy requirements on Australia's spies were "strict and absolute" saying a breach "affects relationships with other countries … as well as reputational issues" for Australia.
Witness K made the illegal disclosures around the classified information in two affidavits in 2013, intended to be used at the Hague where Timor-Leste had accused Australia of failing to negotiate in good faith.
Mr Theakston recognised the argument Witness K's actions were not intended to "compromise Australia's national security interests", but maintained the sentence would be recorded as a conviction.
He added that the exposure of the information should not be considered a "trivial" matter, emphasising the requirement for secrecy of those working for Australia's security agencies.
The court hearing was at times held in closed proceedings to consider classified information with black duct tape layered over security cameras in the court room.
But it also revealed further detail about the anonymous man behind the hearing.
The man was in his 70s and suffered from long-term mental illnesses including post-traumatic stress disorder and depression.
Mr Theakston said Witness K's moral capabilities had been reduced due to his mental health conditions and recognised a connection between these conditions and the offence.
Lawyers acting for Witness K on Friday earlier argued Witness K should be offered "judicial mercy" as an elderly man suffering from several health afflictions.
Lawyer Robert Richter said the government should not make an example of the man for the means of deterring others, and that he should be spared jail time.
"It would be inappropriate to deal with Witness K with (general) deterrence," Mr Richter told the court.
"It is clear he suffered from a number of conditions including post-traumatic stress and depression."
Witness K's former lawyer Bernard Collaery is also facing separate court action related to the case.
Prosecutors acting for the government argued Witness K disclosed the details of the plan to bug the Timor-Leste government through documents provided to Mr Collaery.
The court heard on Friday that Mr Collaery then conducted media interviews "asserting ASIS had done certain things in Timor-Leste".
Prosecutor Richard Maidment rejected the idea that Witness K should not be considered a candidate for punishment acting as a deterrent to others.
"This was not committed out of a momentary lapse," Mr Maidment said.
"This was a considered, continuing course of conduct. He had the opportunity to reconsider [his actions] for whatever reason out of grievance or altruism for the subject matter." 
Mr Maidment said Witness K and Mr Collaery had "failed to act in good faith, by engaging in espionage."
He added while the former spy's health condition should be considered in the outcome of the trial, it should not be used to explain his actions at the time.
The defence has argued Witness K has faced years of alienation, anxiety and post-traumatic stress since his home was raided by authorities in December 2013.
Mr Richter said a sentence of imprisonment would not be an appropriate sentence for his client, defending Witness K as a highly decorated ASIS officer.
Witness K and Mr Collaery were charged in 2018 with conspiring to reveal secret information through section 39 of the Intelligence Services Act, which covers secrecy and the unauthorised communication of information.
Mr Collaery is still to face his own charge of conspiring with Witness K, and is trying to push for a public hearing of his own.