— Sports
Wyoming woman goes live with music after back struggle
CHEYENNE, Wyo. (AP) – Legend has it that Jonni Marie Wiltse has been a vocalist ever since the moment she was born. "According to my parents, I was singing as an infant coming out," she said. "My cry was a song."
The now 23-year-old Cheyenne native didn't take music lessons as a child, however. As the youngest of three daughters – all of whom had their own particular hobby – she gravitated toward gymnastics. Music was her older sister's "thing," and she didn't want to step on any toes.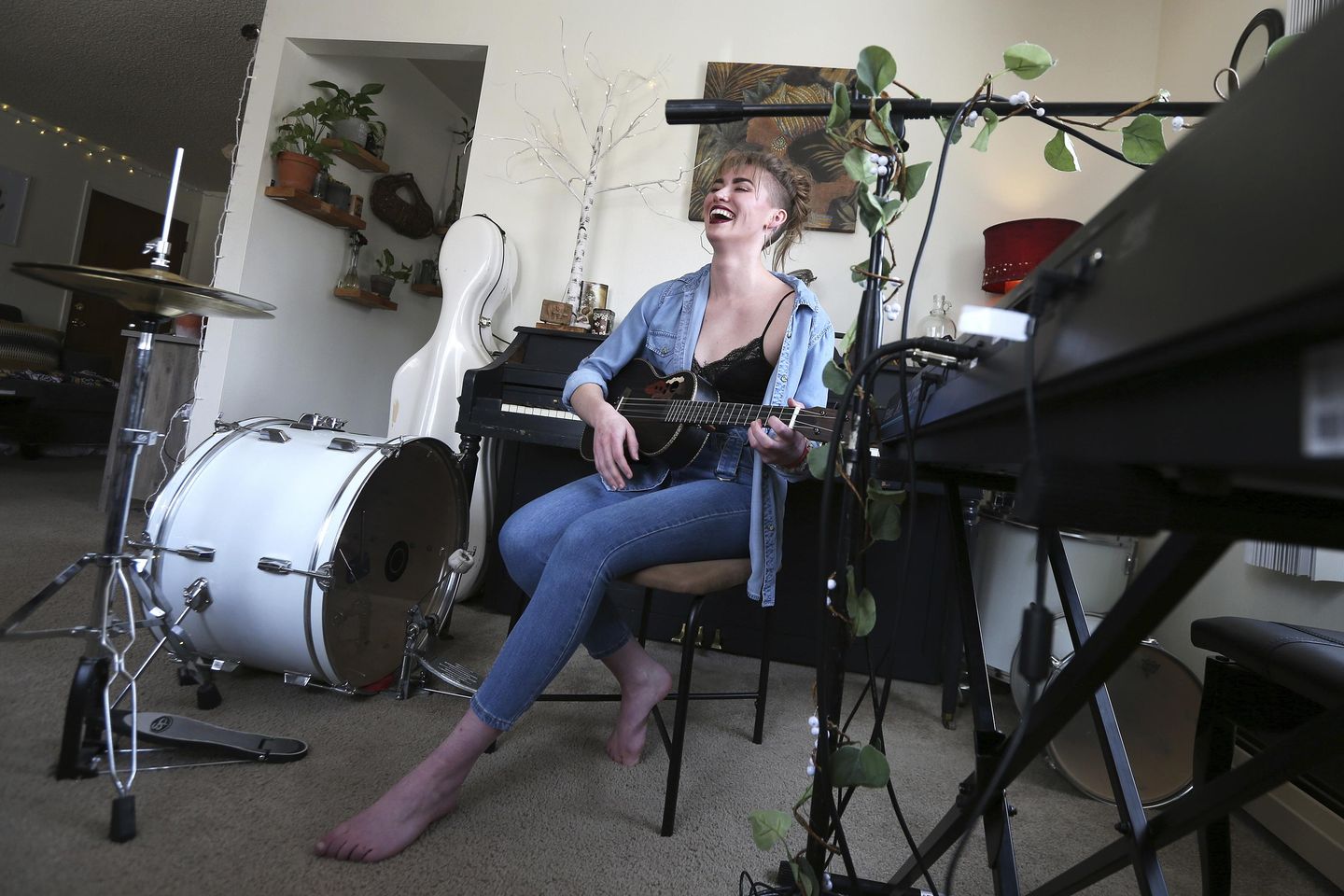 But even as she developed her skills as a competitive gymnast, Wiltse never lost her sense of wonder around music. She was particularly enchanted by the piano, which she learned to play in secret.
"I had to teach myself kind of behind her back," she said. "I'd walk behind her when she was playing piano and memorize where her hands were. And then, when she was out of the house, I'd teach myself." Fast forward to 2021, and Wiltse can now be seen playing live every Thursday during Dillinger's open mic night.
Finding beauty in the pain
Wiltse's gymnastics career took a turn when her body started rejecting the sport, quite literally. Back-to-back injuries became prevalent around the age of 9, and she broke her spine the first time at age 12. "I didn't know that I broke it, and I continued to compete on a fractured back for two years," she said. "We found it when they were x-raying my scoliosis."
She was 14 by then, and her doctor advised her to quit gymnastics if she didn't want to end up on a stretcher. Wiltse's parents divorced the same year, and because her mom was out of town often as a flight attendant, she spent a great deal of time with her dad, an editorial photographer.
This formative period was marked by stretches without internet access or even food because her parents couldn't afford them during their legal battle. But it was also Wiltse's first introduction to music as a coping mechanism.
"I was getting tossed back and forth between the two for years and years," she said. "So through that, music, books, and writing really saved me. … I remember lying on the couch at, like, 14 years old in the summertime, listening to my iPod Touch, and 'Skinny Love' by Bon Iver came on, and I had a soul reaction, like 'What is this sound? How did I just find this?' That launched me."
She fell into a deep love with indie folk music, especially artists such as The Head and the Heart and Fleet Foxes. Wiltse was so obsessed with consuming as much of this music as possible, she got yelled at for having her headphones in during class. It even led to her first D in math class – but that didn't slow her down.
The more variety of songs she listened to, the more her interest blossomed. When she branched out into soul music, Wiltse finally found her authentic sound – a mix of folk and soul that felt entirely unique.
Changing course
Music wasn't Wiltse's only interest as a teenager, however. Her father's job in photography had instilled a love of the camera at a young age, and by the time she was a junior at East High School, she decided to graduate early to pursue a career in modeling.
She took classes through several schools to get enough credits to finish a year early, and by the time the junior year was over, she was headed straight for Houston, Texas. "I was in such a hurry to get out," Wiltse recalled. "I put in an incredibly challenging year as a junior … just to peace the hell out. I had so little belief that I was going to have any impact here. And still, I can already see how I'm going to outgrow what Cheyenne is going to be able to offer me, but (at 17) I didn't think there was even going to be a platform."
Wiltse ended up returning to Cheyenne because she needed to flee a bad relationship, and when she got back, she was lost. She had forgone college to break into the modeling industry, and now she was back in her hometown without a degree or any clue what to do.